Sepp Moser – a family winery, a step ahead of the times
Focus for 'Austria Wine Time' retail month - March 2021

When people think Austrian wine, they tend to think Grüner Veltiner but, of course, this isn't the whole story. Likewise, Kremstal may be home to the Sepp Moser family estate, but only half their vineyards are found here.
Rohrendorf – home to Weingut Sepp Moser:
Rohrendorf is a small village in Kremstal, the wine region to the north of Austria, 70 km west of Vienna and a stone's throw from the river Danube. This is the where the main estate is situated, with 24 hectares and a climate and soils suited more to white than red grapes. Grüner Veltiner is the main grape grown here, along with some Chardonnay, Sauvignon Blanc and Riesling (and a little Blauburgunder / Pinot Noir).
It's also home to the Gebling, Breiter Rain and Schnabel single vineyards. Altitude at the Sepp Moser estate is around 320m above sea level, and 90% of vineyards here are terraced.
Apetlon, in Neusiedlersee:
Sepp Moser have a further 27 hectares in Neusiedlersee – more to the south-east, and near the border with Hungary. This is the lowest, warmest and sunniest part of Austria. In contrast to Kremstal the vineyards are largely flat, and the climate is greatly influenced by Lake Neusiedl.  Sepp Moser's vineyards here are approx. 115m altitude, and the soils are very different – dark and laced with gravel that radiate heat well after sunset, so more suited to red varieties.
Sepp (Niki Moser's father) was growing grapes here in the late 1960s/70s – for both reds and sweet wines, and the winery's oldest vineyards here were planted in 1971. Zweigelt is the most important red grape, and the only one that can carry the DAC designation.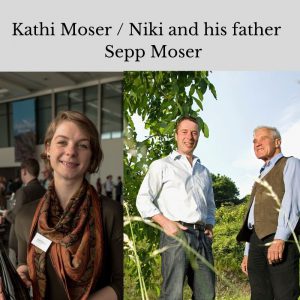 How it began…
The Moser family has a long association with wine in Austria, dating back to the 1100s. The most famous is Lenz Moser (the 3rd) – yes, he of the famous vine-training system (for those who've studied for WSET exams)!  Lenz was Niki's grandfather, and he built Lenz Moser into one of the biggest wine companies in Austria.
His son Sepp established Weingut Sepp Moser, in the Atrium House in Rohrendorf where the Moser family had once lived, adapting the cellar for wine production.
Today the head of the household is Sepp's son, and Lenz' grandson Niki Moser, and this is still very much a family affair. Both Niki and his daughter Kathi are very welcome visitors to our Portfolio tastings.
In Sepp's time the winery was based around sweet wines and those of single vineyard quality. Sepp was a founding member of the group Österreichische Traditionsweingüter (ÖTW, or Austrian traditional wine estates) established in 1992 to classify the best and most historic vineyard sites. These Erste Lagen are considered of  'premier cru' status.
Today Sepp Moser have a number of Erste Lage sites including the Gebling and Schnabel vineyards. Only around 10% of single vineyards in Austrian qualify for this designation.
Always striving, and not afraid of a challenge!
The Moser family is not one to become complacent…
By the late 1990s Nikki was already interested in biodynamics, so when he took over the estate in 2000 he began to trial its methods in some sites. By 2005 he had decided to aim for 100% certified vineyards.
Niki also introduced natural wine (he would call it 'puristic' rather than 'orange' in style) with Minimal back in 2005 – before many began to follow the trend for orange wines. He had taken an interest in how some Slovenian producers were working with the Ribolla Gialla grape, and was keen to to see how these techniques could express regional and varietal character, and not just primary fruit.
Nowadays more and more wineries understand the importance of sustainability, and are beginning to follow organic or biodynamic principles. Niki and Weingut Sepp Moser were ahead of the times – Demeter certified since 2006. Wine production is this way certainly has its challenges – without herbicides an awful lot of extra time is spent maintaining the vineyards, and in canopy management to keep the vines healthy and free of fungus and pests. Then, once in the cellar, the wines are allowed to take their time – they're not rushed.
But when you taste the wines you know it's worth it!