Natural Wines: Flirting with Faults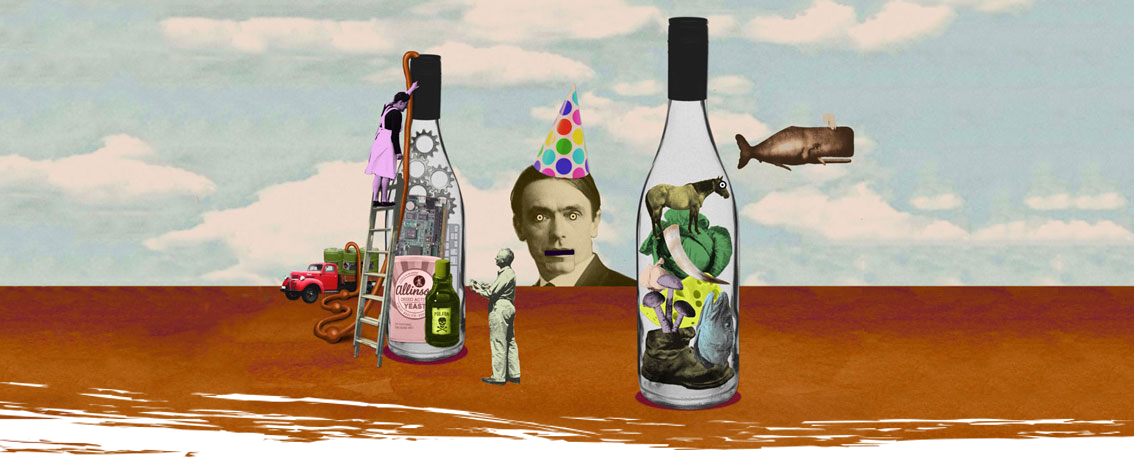 Natural wines – you've no doubt been asked for them. This seemingly ubiquitous term covers a huge range of wines produced in many different styles and for many different reasons.
Boutinot believes in wine – and moreover drinkable wine – and this is all we want to sell. We have no interest in the undrinkable, cloudy efforts that have been buried in amphorae for decades and now look like a good reason to visit the doctor. But, there is certainly something compelling in the idea of minimal intervention – both in the vineyard and in the winery.
It is important to remember however there are two types of winemaker using 'minimal intervention'; there is the ultra-conscientious winemaker with an innate understanding of vine-growing and winemaking processes, who tastes the wines they are making every day to evaluate their development, who have the time and patience (and space) to allow the wines to fulfil their potential. Then there are those who use minimal intervention because they simply don't have the understanding or resources to do otherwise.
For the purposes of this exercise, and for the sake of our reputation, we are interested in the former. It is probably more of a state of mind than an exact science, but you need a definition or the whole thing becomes meaningless. Without a definition, Echo Falls might be tempted to add the word Natural to their White Zinfandel label, and where would that leave us? Probably with more of a Brown Zinfandel…

So, how to quantify. Is a wine simply natural or not (not natural? Unnatural?), or is there a sliding scale of natural-ity? Perhaps the most famous champion of natural wines is Isabelle Legeron MW, and (to her credit) she was the first to put together a set of criteria for natural wines in her 2012 Charter of Quality. Nobody has come up with another proper definition since, and tellingly, when Decanter magazine had their first blind panel tasting of natural wines in May 2017, they used Legeron's definition practically verbatim as their entry criteria. So this list seems a reasonable place to start. We did feel however that parts of it were a bit 'woolly' so we have also set some defined limits to some of the looser terminology (how light is 'light filtration' for instance?), and we also think the use of external flavour additives runs counter to the philosophy so we have added a point on this. 
We have no interest in the undrinkable, cloudy efforts that have been buried in amphora for decades and now look like a good reason to visit the doctor. 
Here, then, is Boutinot's Natural Wine Charter:
Organically or biodynamically-grown grapes, with or without certification.
No irrigation.
Hand-picked.
No added sugars, yeasts or bacteria.
No adjustments for acidity.
No external flavour additives other than those imparted by barrels (no staves, chips, or liquid extract).
Minimal or no fining.
Light filtration, or none. 3μm minimum pore size.
No heavy manipulation, such as micro-oxygenation, reverse osmosis, spinning cone and cryoextraction.
Total sulphites typically <70mg/L.
Next, we looked at our own wines and measured them against these criteria to see if we could legitimately call any of them 'natural' and it turns out we have quite a lot. In fact we could certainly claim to have been selling natural wines long before they were fashionable, which is pleasing – not like us to be ahead of the curve!

A lot of these naturally-minded producers aren't very good at responding to emails, so it's taken a long time to put this list together and it remains a work in progress to be added to as suppliers around the world arrive in the 21st Century – but here is the list so far of which producers and wines currently make the cut.

Remember, we sell these because we think they're good. We've not parachuted them into our portfolio to take advantage of the sudden popularity of natural wines – we've not taken on a single wine or producer on this basis despite (actually more likely because of) the countless samples we've been sent. Some of our producers were also very reticent about being associated with the movement but we think that if we have great wines that meet recognised standards of what constitutes natural wine, we should probably tell you about it.

In fact, while we're here, both Waterkloof Circumstance Chardonnay and Domaine Lafran-Veyrolles Bandol Cuvée Spéciale were highly praised in Decanter's selection of the best natural wines, scoring 93 and 96 points respectively.