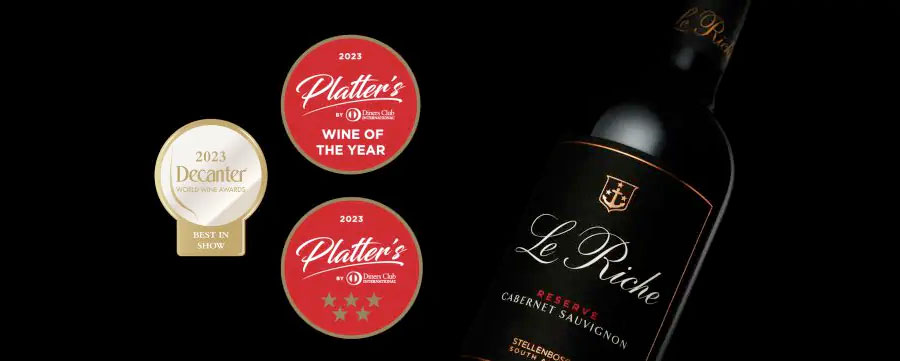 Le Riche are regarded as one of the leading ultra-premium producers of Cabernet Sauvignon and they've got the gongs to prove it….
---
Founded by Etienne Le Riche in 1996 and shipped by Boutinot since the first vintage, Le Riche are now firmly established as a benchmark for quality Cabernet in South Africa. 
Now run by Etienne's son Christo, winemaker and daughter Yvonne, the accolades keep coming, for their iconic Reserve Cabernet Sauvignon in particular, which was twice named 'Cabernet Sauvignon of the Year' in the Platter guide, including the 2019 vintage (just a few cases remaining at time of writing).
The 2020, from a relatively cool vintage in which red wines excelled, is equally impressive and was awarded 97 points and 'Best in Show' at the 2023 Decanter World Wine Awards.
Things come, things go, fashions turn… but, year after year, Stellenbosch quietly gets on with producing some of the Southern Hemisphere's most assured Cabernet Sauvignon. We had an example among our Platinum winners last year, so it was satisfying to see a Best in Show contender this year, and this graceful and accomplished wine didn't take long to win its place in the Top 50. It's dark black-red in the glass, with serenely curranty scents teased to perfect ripeness and lent dimension by oak without any overt woody stamp obtruding on that fruited charm. The wine exhibits a perfect combination of weight, muscle and energy in the mouth: it's every inch the athlete. At the end of the palate, though, that singing, lyrical fruit returns before tapering off in a finish that leaves the mouth clean and fresh yet hoping for more. Spot on.
The 2020 vintage of Le Riche Reserve Cabernet Sauvignon is due in stock late August, keep your eyes peeled!