There are times in all aspects of life when only something frivolous will do. There are countless reasons why this might be the case at any given time, both positive and negative ones. Being tired for instance, or anxious, or in love, or fed up, or watching sport on TV; times where we don't want the hassle of giving time or consideration to the things that we consume.
Much like how the majority of condemned prisoners, in their heightened state of anxiety, often select a hamburger or fried chicken as their final meal, we often want something comforting, familiar… unchallenging.

The parallels are everywhere – in music, even if one can appreciate the serene beauty of Bach's Goldberg Variations, a disposable pop hit might provide a similar dopamine-fix in less than 3 minutes. All the President's Men is a fine film that challenges the viewer to closely follow the intrigue being played out in front of them, no concessions if you can't keep up – but it does not provoke nearly as many belly laughs as Dumb and Dumber.  And there is a very clear reason why Dan Brown has sold a gazillion books but Kafka died of starvation in obscurity, and it has nothing to do with the quality of the writing. 
But this does not mean that you never want to watch Woodward & Bernstein bring down the Nixon administration, or listen to Bach, or read that existentialist novel – sometimes you actively pursue the challenge.  These tend to be the times when you have nothing else clouding your mind and as we get older, take on more responsibilities in our work and home life, these opportunities seem to become fewer and farther between. We should therefore savour these fleeting moments of tranquillity and allow ourselves to fully submerge in something that makes us think, something 'grown up'.

These musings have been inspired by a few spectacular bottles of wine I have enjoyed recently. In my role as quality manager of a successful wine importer, I get to taste an awful lot of wine. When I tell people what I do, I get the same comments every time 'So do you just drink wine all day?' to which the answer is obviously 'Yes. I drink wine all day, every day.' But be careful what you wish for folks – it is not always what I would personally want to drink on my own time. On the plus side however, this only serves to highlight the really good stuff when I do encounter it. So without further ado, here are just a few of the things that have floated my boat of late – a tribute to wines you simply couldn't glug, even if you were really, really parched…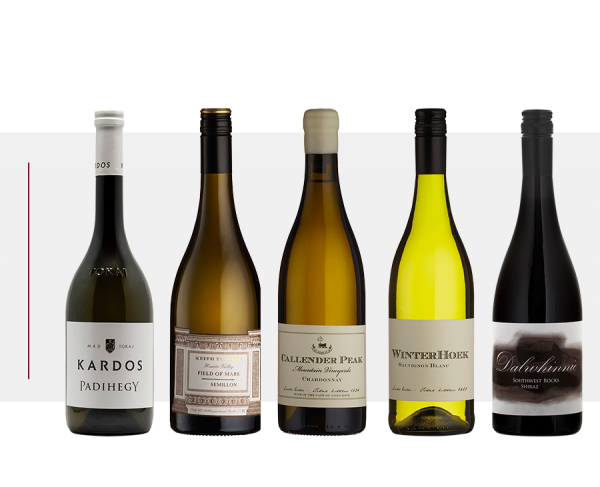 Kardos Padihegy Furmint, Mád 2015

Proper wine this – it has wowed me on a few occasions now, and is a contender for the most interesting wine I've tasted all year. Bone dry, slightly tannic, waxy, multi-layered white from 35 year old (average) Furmint vines in Kardos' Padihegy vineyard. This is certainly not a glugger, this is seriously complex wine deserving of contemplation – leave some in the fridge overnight and when you go back the next day it will give you an idea of what extended cellaring will do for it. This may turn out to be a natural wine (according to Boutinot's definition) but rest assured it will be one that has been crafted in the right way with the interests of the passionate wine consumer at heart.

Keith Tulloch Field of Mars Block 2a Semillon, Hunter Valley 2014

I find it astonishing that I am even allowed to buy this on my staff account given the tiny amount we are allocated each year. This sort of stuff should be like every gig ticket I try to buy – snapped up within 4 seconds of going on sale by robots and swiftly put on the resale market for a massively hiked fee – but I'm certainly not complaining. Precision and poise are the words that spring to mind when I think of Keith Tulloch's wines, and this is classic Keith. From a superb Hunter vintage, this is enormously compelling with all the class and minerality of the greatest European white wines but with something unmistakably Australian harking back to Hunter's glorious past. My lucky daughter (also 2014 vintage) has a case set aside for when she's older – she had better share it with her old man.

Callender Peak Chardonnay, Ceres Plateau 2015

Like most of us at Boutinot, I am always pretty excited when something new arrives from Donovan Rall. On first tasting this (and to a great extent it's Ceres stablemate Winterhoek Sauvignon) last year, both were clearly very good but also incredibly tight. In the year since, the wine has opened out somewhat. While it remains tannic, structured and very serious, with searing acidity (no malolactic) and with the 'tangy' finish I always look for in Cape whites but seem to rarely find, it also appears to be turning into something very close to top-end Meursault. We wondered at the wisdom of shipping a £20+ South African Chardonnay but this is starting to look like really good value right now!

Dalwhinnie South West Rocks Shiraz Pyrenees, Victoria 2010

Tasted this a month or two ago along with Dalwhinnie's impressive 'The Eagle' and afterwards, while a noted MW colleague swooped in to bag the big one for home, I quietly walked away with the SW Rocks, concealing a massive grin as I did so. Sure, 'The Eagle' is a great wine, a superb Aussie Shiraz by anyone's estimation – but for me, a bit showy. No, this is the quieter and more considered sibling – the one who doesn't say much, but when they do it is worth hearing. Sweet super fresh crunchy fruit on the attack and a long herbal finish that I always find hard to describe (something akin to the bitter-bark character of a proper vermouth if you want press me) and yet find endlessly appealing when I find it in red wines. (Incidentally it did cross my mind that this wine might fit the our criteria for natural wine, but the back label informed me that Dalwhinnie had blown up a rocky outcrop to create this vineyard, which did not quite seem in keeping with the ethos!)